Boulder House Blend
Bakers Chocolate, Cocoa, Almond
Regular price
$15.50 CAD
$0.00 CAD
Unit price
per
Dark Roast
Seasonal blend of:
50% Brazil Eldorado (Natural)
50% Guatemala Waykan (Washed)
Perfect for drip coffee or espresso
Varieties: Catuaí, Bourbon, Catimor, Caturra, Maragogype, Pache
Tasting notes: Bakers Chocolate, Cocoa, Almond
10 OZ. / 283 G
With the rich flavours of dark chocolate and a caramelized sweetness, our Boulder Blend makes for the perfect fresh roasted coffee. As smooth as it is versatile, it's the best coffee for the home, office, or around the campfire. Try it with our oat milk for added flavour.

SMALL BATCH ROASTING

100% ARABICA BEANS

DARK CHOCOLATE AND HAZELNUT TASTING NOTES
Say Hello To
BOULDER BLEND DARK ROAST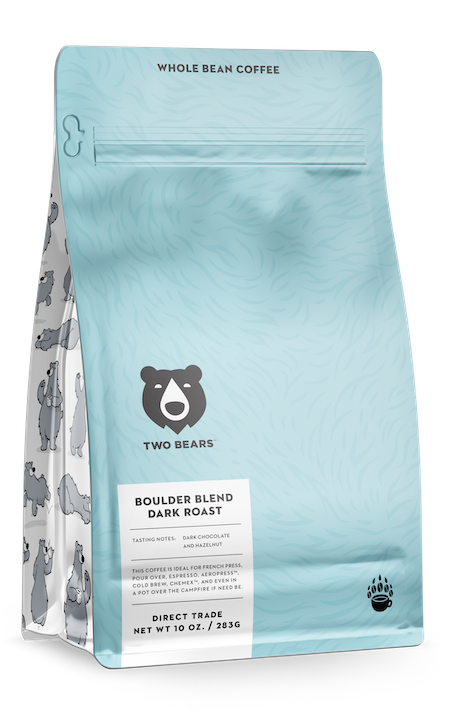 PERFECT FOR ESPRESSO OR FILTER

SPECIALTY COFFEE

DIRECT TRADE

RICH, BOLD FLAVOUR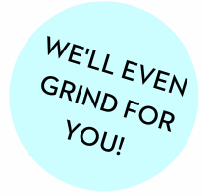 Customer Reviews
Braden B.

Canada
I recommend this product
09/25/2023
Amazing Flavour - 10/10 Coffee
Just finished our first bag of Boulder House Blend and Colombia Decaf. I've been on the hunt for a great tasting Decaf coffee and it's seemingly harder to find than expected. This blend from Two Bears was amazing. Great flavour and made it feel like I was drinking a proper cup of coffee. Decaf often gets left in the dark but Two Bears have stepped up to the plate and knocked this one out of the park! Boulder House blend was fantastic as well. Tons of flavour and an easy drinking coffee. We use a French press for all our coffees and these beans cooperated and made a great cup of coffee. Can't wait for our next bags of beans!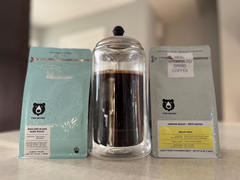 Robert D.

Canada
I recommend this product
12/17/2021
Average
Was fine coffee - didn't blow my mind, worth the 50% discount
Melissa D.

Canada
I recommend this product
08/31/2021
Excellent tasting coffee but…….
I love your coffee, it tastes great! My only problem with ordering more is I found it to be expensive for the quantity you receive so I don't think I will be a regular customer
Sharon G.

Canada
I recommend this product
07/26/2021
So yummy
This coffee is my favorite!
Adam C.

Canada
I recommend this product
02/02/2021
Boulder house blend
I truly enjoyed seeing the Two Bears box on my doorstep every couple weeks! The aroma and quality of the roast was awesome! Would recommend and order again for sure! Thanks for the great product!
---