Frothed Salted Caramel Oat Latte
Regular price
$24.00 CAD
6 Pack
$0.00 CAD
Unit price
per
Our Salted Caramel Frothed Latte combines our freshly roasted coffee with the rich golden flavours of caramel and just enough sea salt for a savoury kick. We make them extra creamy for a smooth and delicious taste that gets stuck on your tongue, not your teeth.

60 MG CAFFEINE
1.5 CUPS OF COFFEE

NITRO INFUSED
CREAMY WITHOUT THE CREAM

SHELF STABLE
SERVED CHILLED, BUT REFRIGERATION NOT REQUIRED
Say Hello To
FROTHED SALTED CARAMEL OAT LATTE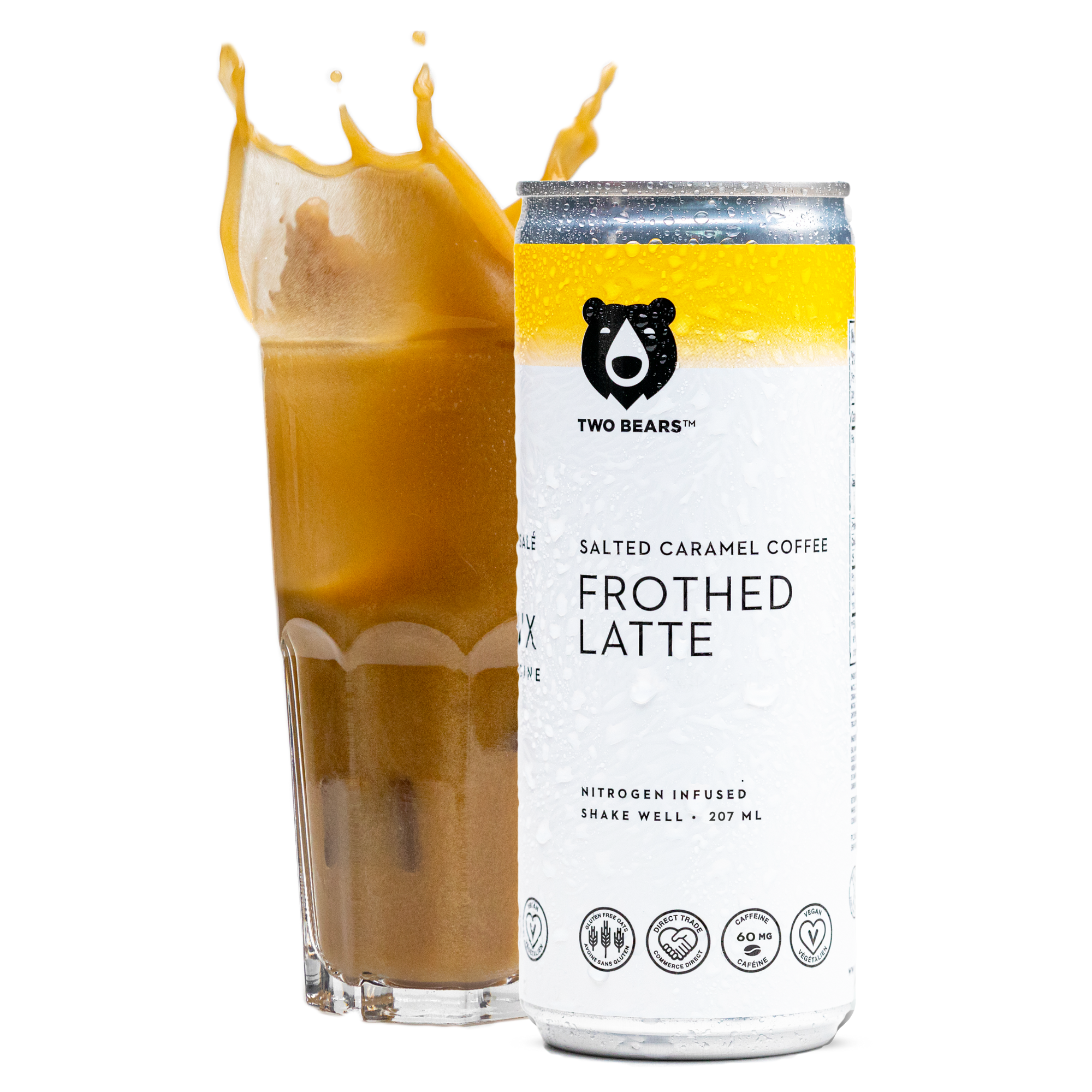 ONLY 70 CALORIES
WE CAN'T BELIEVE IT EITHER!

PLANT BASED
VEGAN & DAIRY FREE

ETHICAL COFFEE
100% ARABICA BEANS DIRECTLY SOURCED FROM FARMS
FROTHED SALTED CARAMEL OAT LATTE
WATER, ORGANIC COFFEE, GLUTEN FREE OATS, ORGANIC CANE SUGAR, SUNFLOWER OIL, XANTHAN GUM, NATURAL FLAVOUR, CONTAINS 1% OR LESS OF: DIPOTASSIUM PHOSPHATE, CALCIUM CARBONATE, TRICALCIUM PHOSPHATE, SEA SALT
Customer Reviews
Eli B.

Canada
I recommend this product
06/27/2023
Tasty and convenient!
I liked the vanilla better than the salted caramel flavours for the oat lattes, but both were really good! Perfect for the summer when you're rushing out the door and don't have time to make a coffee
Kate J.

Canada
I recommend this product
02/17/2023
Delicious!
These are super tasty - my partner has a sweet tooth and has had to cut down on sugar. The nitros brewing process is a fantastic alternative to traditional sweetened lattes. I can't wait to try more flavours!
Marni K.

Canada
I recommend this product
10/08/2022
As Good as expected
I was a fan of the vanilla - found the salted caramel just as delicious!
Tim W.

Canada
I recommend this product
09/29/2022
Delicious Salted Caramel!
The frothed salted caramel oat milk latte is so good. Cheaper than a coffee shop and no guilt about using cow milk! I will be ordering more.
Jessica N.

Canada
I recommend this product
08/16/2022
This coffee is outstanding!
I absolutely love having a stash of these beauties in the fridge. They're perfect to pack for hikes, in my motorcycle bag so I can have a cold, deliciously (not too) sweet coffee before day shift begins. I'm lactose intolerant and there are very few single serve coffees that take that into consideration. I love how smooth and satisfying the oat milk is with the notes of caramel. I'm a repeat customer and will keep buying this stuff! Thank you Two Bears!
---