Frothed Vanilla Oat Milk Latte
Regular price
$24.00 CAD
6 Pack
$0.00 CAD
Unit price
per
Vanilla is the perfect sidekick for coffee: its aromatic qualities elevate the rich, full-bodied flavours while adding a soothing sweetness and delicious complexity. Frothed with nitrogen to make it extra creamy, this is a great on-the-go flash brew coffee. 
Customer Reviews
Kayla H.

Canada
I recommend this product
09/24/2021
Vanilla oat milk latte
I love this item for a quick coffee on the go. It's sweetened to my liking and the oat milk tastes great.
Lea W.

Canada
I recommend this product
09/01/2021
Coffee is the best!!
We absolutely love two bears coffee. It has become an absolute necessity in our home. We haven't tried a coffee from them we didn't like. We are particularly fond of vanilla oat latte, black and hazelnut sea salt. Not too sweet, great customer and delivery service. You will not be disappointed if you give them a try!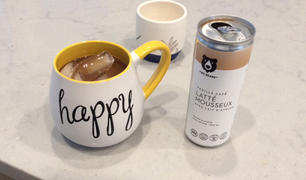 Julie F.

Canada
I recommend this product
08/30/2021
Perfect summertime beach drink!
Loved the taste of the Vanilla Oat Latte- perfectly sweet, while still definitely tasting like a coffee drink. I'll definitely buy more of these! The convenience factor is second to none- a grab and go iced coffee!
Brianna H.

Canada
Amanda O.

Canada
08/17/2021
Odd taste for me
I had high hopes for this drink and bought two 6 packs as I love the Starbucks vanilla latte w/ oat milk, but I can't seem to love the drink. I've tried a few times and I can only get a few sips down and end up pouring it out. I've heard the matcha is really good, I might try that! The package is also super cute.
---