Frothed Vanilla Oat Latte
Regular price
$24.00 CAD
6 Pack
$0.00 CAD
Unit price
per
Vanilla is the perfect sidekick for coffee: its aromatic qualities elevate the rich, full-bodied flavours while adding a soothing sweetness and delicious complexity. Frothed with nitrogen to make it extra creamy, this is a great on-the-go flash brew coffee. 
135 MG CAFFEINE
1.5 CUPS OF COFFEE
NITRO INFUSED
CREAMY WITHOUT THE CREAM
SHELF STABLE
SERVED CHILLED, BUT REFRIGERATION NOT REQUIRED
Say Hello To
FROTHED VANILLA OAT LATTE
ONLY 80 CALORIES
WE CAN'T BELIEVE IT EITHER!
PLANT BASED
VEGAN & DAIRY FREE
ETHICAL COFFEE
100% ARABICA BEANS DIRECTLY SOURCED FROM FARMS
FROTHED VANILLA OAT LATTE
WATER, GLUTEN FREE OATS, ORGANIC COFFEE, ORGANIC SUGAR CANE, NATURAL FLAVOUR, XANTHAM GUM, DIPOTASSIUM PHOSPHATE, CALCIUM CARBONATE, TRICALCIUM PHOSPHATE
Customer Reviews
Allison U.
I recommend this product
04/02/2022
Amazing
These are so SO tasty, they are even pretty low in sugar if you compare to other cold coffee options. So if you're looking for a good pick me up without worrying about if it's half sugar then this is your drink!
Elicia P.

Canada
01/18/2022
Tried and true
Tried and true favorite. I always know I'm going to love this and when in doubt it's a fan favorite in my house.
Cindy B.

Canada
I recommend this product
11/06/2021
Glad to discover Two Bears!!
I was blown away with the flavor of these coffees!! You will not be disappointed!! Even though they are self save, storing them in the fridge means you can grab and go!! Even took a couple for my husband and I to enjoy on our road trip!!
Hi Cindy, Thank you so much for the review. We're so glad that that you enjoyed Two Bears :) Martin Wolseley Two Bears @twobearscoffee www.twobears.coffee
Kayla H.

Canada
I recommend this product
09/24/2021
Vanilla oat milk latte
I love this item for a quick coffee on the go. It's sweetened to my liking and the oat milk tastes great.
Lea W.

Canada
I recommend this product
09/01/2021
Coffee is the best!!
We absolutely love two bears coffee. It has become an absolute necessity in our home. We haven't tried a coffee from them we didn't like. We are particularly fond of vanilla oat latte, black and hazelnut sea salt. Not too sweet, great customer and delivery service. You will not be disappointed if you give them a try!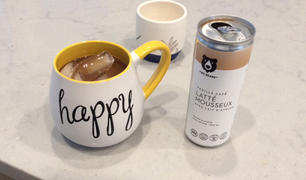 ---