Barista Oat
Regular price
$72.00 CAD
12 Pack
$0.00 CAD
Unit price
per
The same love of flavour that goes into our coffee goes into our dairy-free oat milk. Balanced, naturally sweet, and made with Canadian oats, Two Bears Oat is an excellent dairy alternative for baristas and coffee lovers alike. It tastes so good we even add it to our smoothies and morning bowls of granola. What? Just because we're bears doesn't mean we can't be healthy. 
**Best served cold, but these Bears can hibernate in your cabinet for up to 6 months. 

BARISTA FRIENDLY
STEAMS PERFECT MICRO FOAM FOR LATTES AND CAPPUCINOS

SMOOTHIE FRIENDLY
GREAT DAIRY ALTERNATIVE FOR SMOOTHIES

CEREAL FRIENDLY
PERFECT FOR YOUR MORNING BOWL OF CEREAL OR GRANOLA
Say Hello To
BARISTA OAT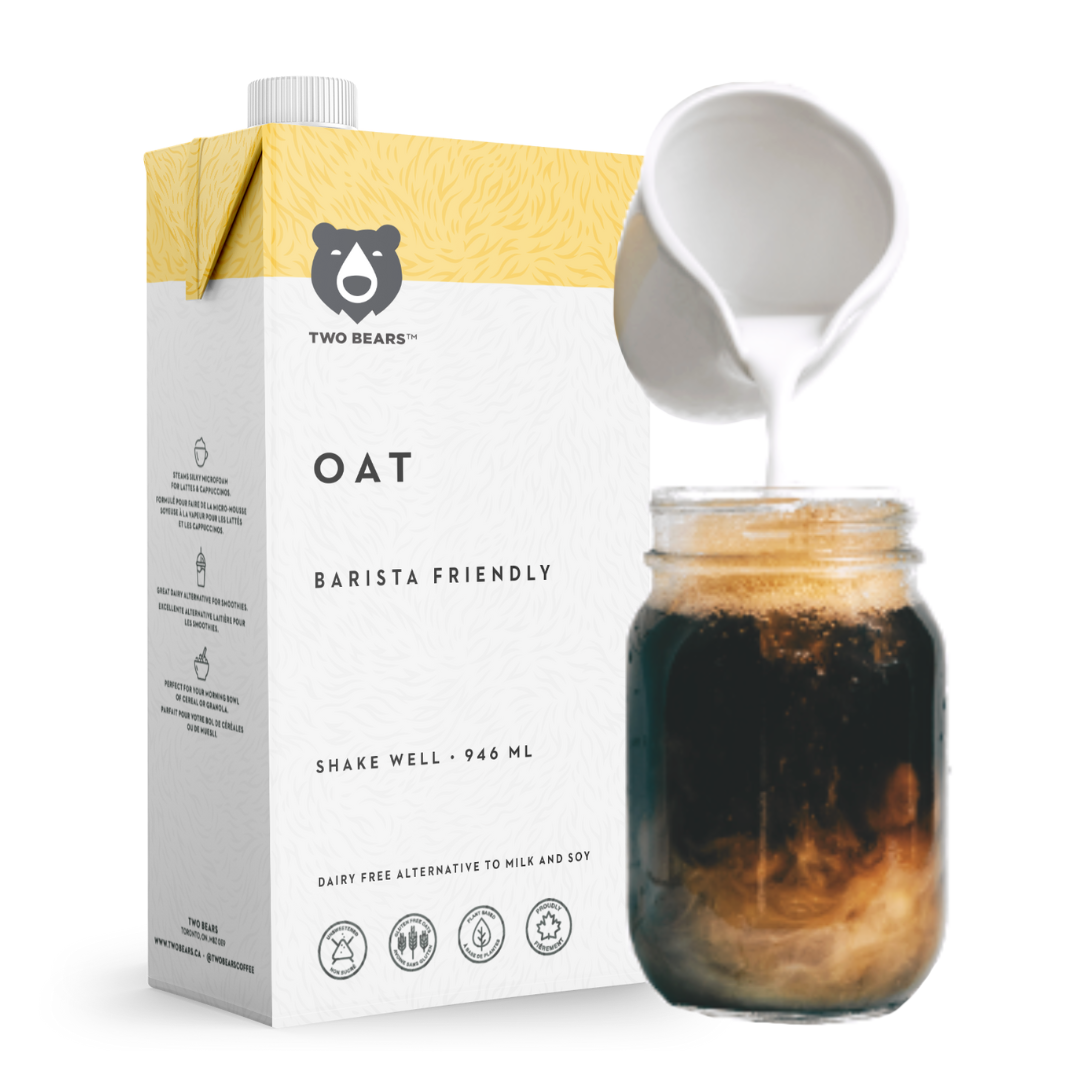 ZERO ADDED CANE SUGAR
ZERO GRAMS OF ADDED SUGAR

SHELF STABLE
SERVED CHILLED, BUT REFRIGERATION NOT REQUIRED

GLUTEN FREE OATS
GLUTEN FREE OATS SOURCED DIRECTLY FROM FARMS IN SASKATCHEWAN
BARISTA OAT
WATER, GLUTEN FREE OATS, SUNFLOWER OIL, CALCIUM CARBONATE, TRICALCIUM PHOSPHATE, SEA SALT, AMYLASE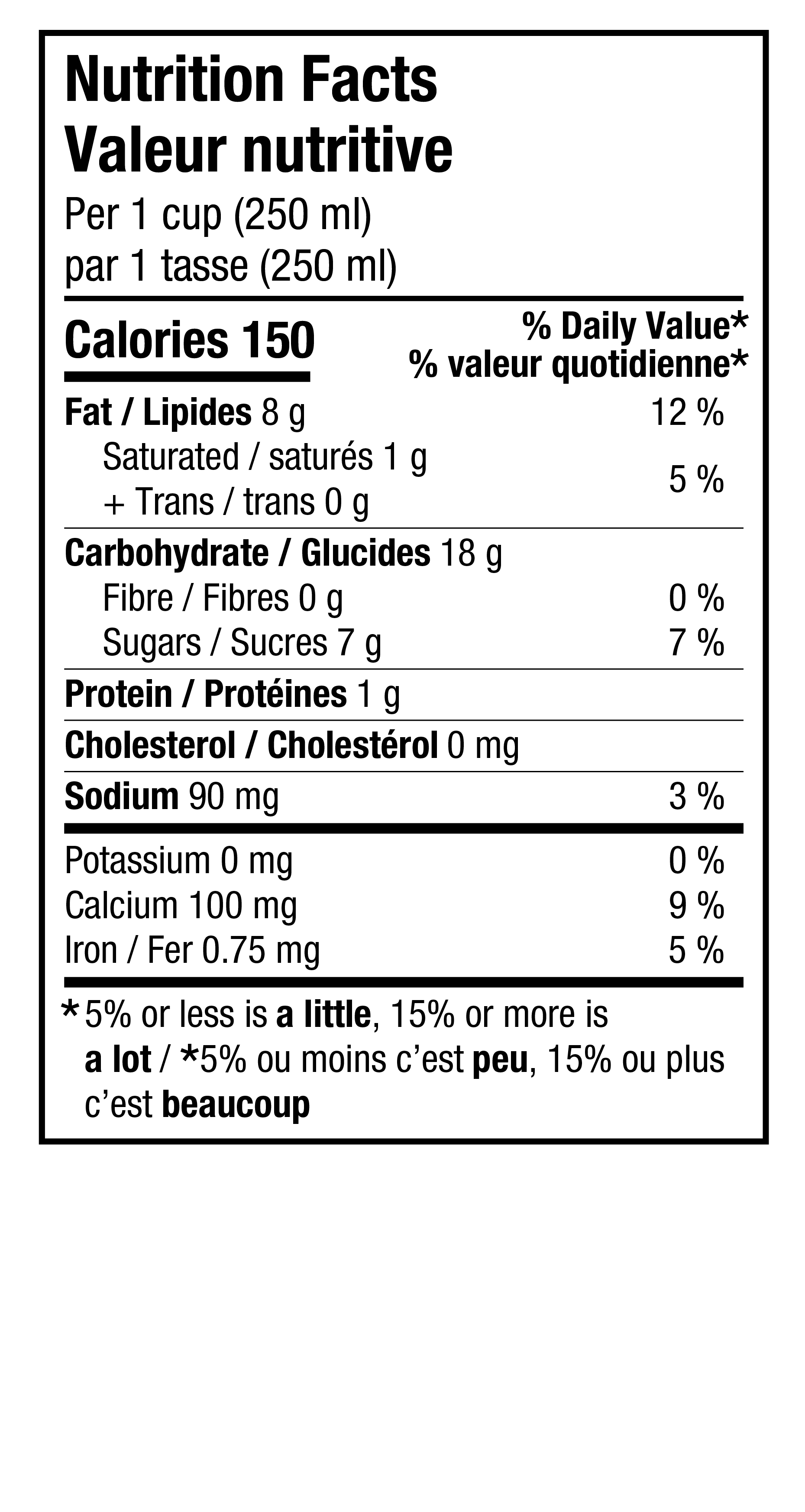 Customer Reviews
Janell Z.

Canada
I recommend this product
12/06/2023
The best oat milk out there
I use this in my coffee and black tea. It is so creamy and delicious with a slight sweetness so I do not need any sugar or sweetener. Thee best!
Zuzanna K.

Canada
I recommend this product
11/22/2023
Didn't froth :(
Flavour of this oat milk was okay but I was disappointed it wouldn't froth. Maybe just a bad batch? If you want that awesome latte froth, I wouldn't buy this one, unless it's for your cheerios. :D
Julie L.

Canada
I recommend this product
09/13/2023
smooth blend without the froth
I like the smooth creamy consistency - I chose the unsweetened, and like it but sometimes add a bit of honey to my coffee. It does not foam up in my frother like my other favourite oat milk. It blends nice with both tea and coffee. Two Bears oat milk is one of two brands that enjoy and it is Canadian.
Nancy L.

Canada
I recommend this product
07/28/2023
Good product!
We found this product while on a recent trip to Victoria. I couldn't find it when we got home so was please to see I could order direct.
So happy to hear you enjoy the oat milk Nancy! We love to hear about Two Bears in the wild :) Martin Wolseley Customer Service Bear @twobearscoffee www.twobears.coffee "Beary Delicious"
Sasha Z.

Canada
I recommend this product
---