Mocha Flash Brew Coffee
Regular price
$21.00 CAD
6 Pack
$0.00 CAD
Unit price
per
There's just something about our Mocha Flash Brew Coffee that gets us all riled up. Maybe it's the deep, savoury cocoa flavour throughout, or the uplifting, fruity undertone. Or maybe it's because nothing beats a great canned coffee with extra chocolate. We may never know, but we'll have another one while we think about it.  
155 MG CAFFEINE
1.5 CUPS OF COFFEE
NITRO INFUSED
CREAMY WITHOUT THE CREAM
SHELF STABLE
SERVED CHILLED, BUT REFRIGERATION NOT REQUIRED
Say Hello To
MOCHA FLASH BREW COFFEE
ONLY 50 CALORIES
WE CAN'T BELIEVE IT EITHER!
PLANT BASED
VEGAN & DAIRY FREE
ETHICAL COFFEE
100% ARABICA BEANS DIRECTLY SOURCED FROM FARMS
MOCHA FLASH BREW COFFEE
WATER, ORGANIC COFFEE, ORGANIC SUGAR CANE, NATURAL FLAVOUR
Customer Reviews
Jean-phylippe G.

Canada
I recommend this product
01/18/2022
The moka without the ''to much sugar taste''
Seriously its surprising, you can have a good Moka coffee, in a can, without having a mountain of sugar in it. For me thats the only thing its important, a porduct who is good and dosent need to much sugar to hide the coffee taste.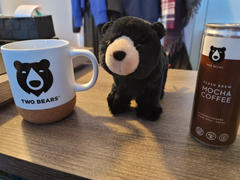 Hi Jean-phylippe! Creating products that are low in sugar is one of our main priorities here at Two Bears! Too much sugar can hide a lot of the beverage; when there is the right amount of sugar, the drink is in balance with the other elements! Thank you for the kind review--we're so glad you enjoyed your purchase! Martin Wolseley Customer Service Bear @twobearscoffee www.twobears.coffee "Beary Delicious"
Yifei C.

Canada
I recommend this product
11/23/2021
Very good
I think it is very good I will really recommend this one. But to be honest and I'm more prefer frothed ones
Courtney S.

Canada
I recommend this product
10/19/2021
Tastes like Coffee
I'm one of those annoying people who only like coffee if it doesn't really taste like coffee anymore. This tasted too much like coffee for me. People who actually like coffee will probably really like it
Tracy B.

Canada
I recommend this product
08/31/2021
Perfect and not too sweet.
Enjoying all the Two Bears teas and coffee blends with oat milk. Perfect size!
---